Florida at Home Magazine Spring 2023 Edition Call for Contributors
Florida at Home Magazine Spring 2023 Edition Call for Contributors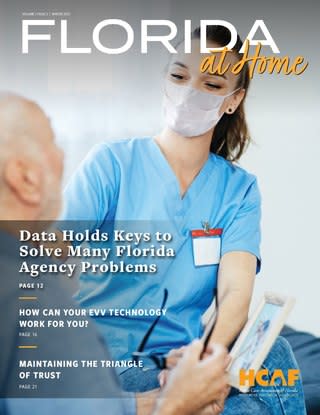 HCAF is now accepting proposals for articles to be published in the Spring 2023 edition of Florida at Home, our official magazine.
Featuring expert, insightful, and timely information regarding current trends, developments, updates, and best practices for home care providers, Florida at Home is published twice annually. Every licensed home health agency in Florida, as well as our more than 100 Associate members, receives a copy of this publication. Past editions can be accessed here.
If you are interested in submitting a proposal, please review the publication guidelines and recommendations below. The deadline for proposals is Friday, April 7, 2023. To submit a proposal online, click here.
Editorial Calendar
Proposals Due: Friday, April 7, 2023
Notification of Decision: Wednesday, April 12, 2023
Content Due: Friday, April 21, 2023
Publication Mailed: Late Spring 2023
Publication Guidelines & Recommendations
Each edition includes 5-10 articles. HCAF prioritizes contributors based on their membership status, prior advertising and sponsorship support, and speaking appearances at HCAF events.
Articles should be 750-1,000 words in length and not exceed 1,500 words.
Contributors are not compensated.
The article byline will contain the contributor's name, credentials, title, organization, email address, and web address.
An article should demonstrate the author's expertise regarding home care trends, developments, updates, and best practices while avoiding promotional language.
Topics of particular interest to providers include quality of care, benchmarking data, clinical best practices, legislative and regulatory updates, technology trends, and recruitment and retention strategies.
An image related to an article may be submitted for consideration. The image must be in the public domain for commercial purposes or owned by the contributor.
Articles may be edited by HCAF as necessary, and HCAF is not responsible for the content of the articles or opinions expressed by their authors.
Call for Advertisers
If your organization serves the Florida home care provider community, advertising in Florida at Home will be a wise investment. The magazine is targeted at professionals working for Florida's more than 2,000 home care agencies. Make sure they think of you first!
Click here to view advertising rates or contact our publisher, Innovative Publishing, at (844) 423-7272 or advertise@innovativepublishing.com.