HCAF Participates With Health Care Workforce Coalition and Proposes Solutions to Staffing Crisis
HCAF Participates With Health Care Workforce Coalition and Proposes Solutions to Staffing Crisis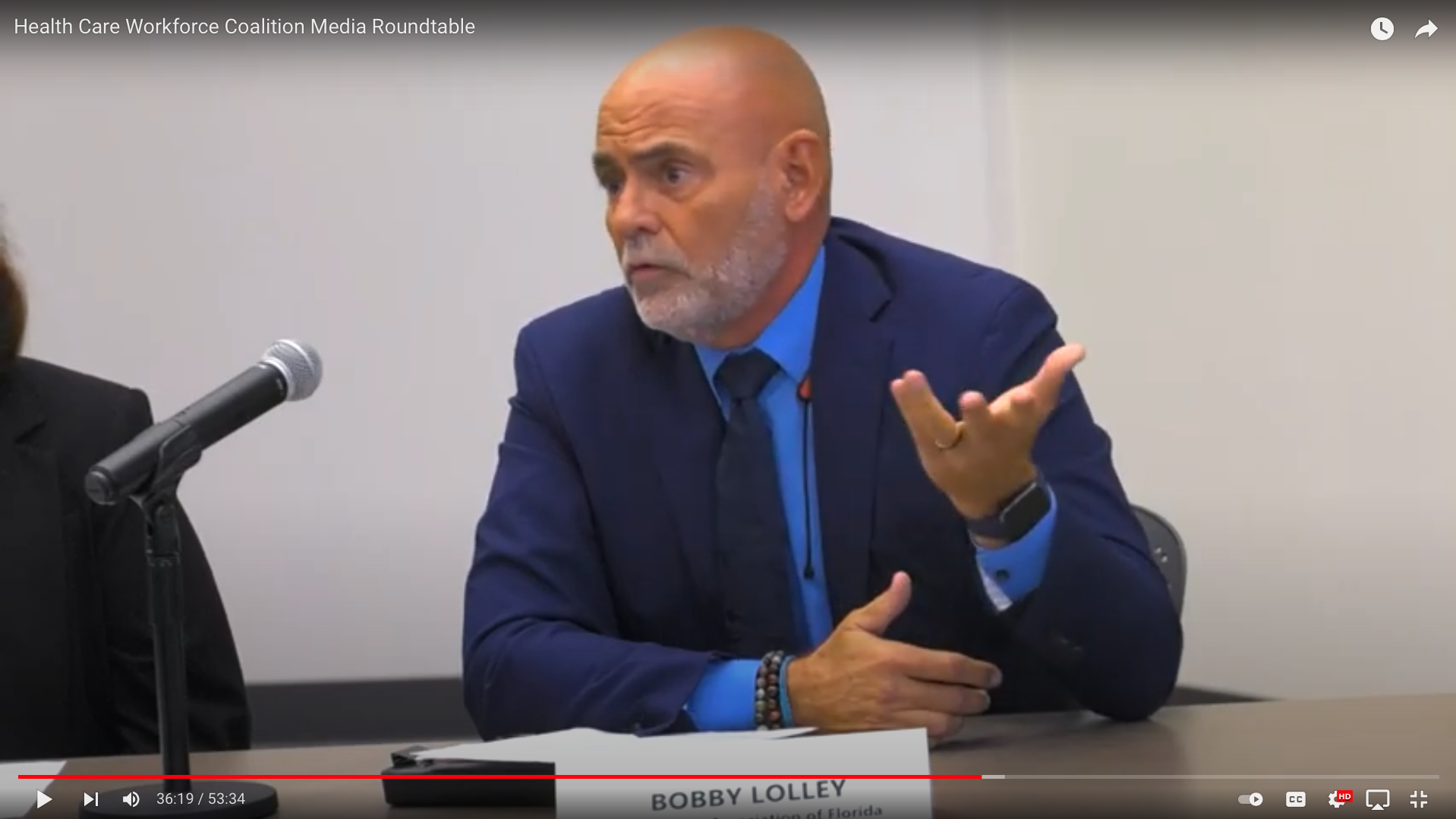 Florida can emerge from its ongoing health care workforce crisis by providing financial assistance for potential and current caregivers, developing training and education opportunities, and streamlining pathways for professionals to build careers in health care. This was the message delivered by the Health Care Workforce Coalition, 10 different associations that participated in a media roundtable on Monday, November 1, 2021, to discuss Florida's health care staffing crisis. View a recording of the discussion below.
HCAF Executive Director Bobby Lolley, RN, joined his counterparts of health care industry leaders to provide insights into the workforce shortage crisis on home care providers. In his comments, Lolley pointed to a "revolving door" of certified nursing assistants (CNAs), who provide large amounts of hands-on care. In an ideal scenario, "any individual that wanted to be a CNA, the state would pay for it," Lolley said. "The state would take care of it, just like that."
The media event took place two weeks after the Tampa Bay Times, the state's most-read newspaper, reported on the home care sector's challenges in a front-page story.
In a press release announcing the event, Lolley made the following statement:
"The ongoing COVID-19 pandemic did not create the current health care workforce shortage crisis, it merely magnified the challenges that providers across the care continuum face with attracting and retaining clinicians and caregivers. The $15 minimum wage increase and outdated reimbursement rates in the Medicaid program further intensify the situation. The Florida home care community stands ready to work with policymakers to develop solutions that will cultivate front-line direct care workers who will serve our aging population and protect access to in-home care."
In addition to the roundtable discussion before members of the press, the coalition issued a nine-page analysis of the labor crisis within the health care sector assessing the root causes of the crisis and laid out almost two dozen strategies to address the challenges including policy, legislative, and budget priority measures.
The Health Care Workforce Coalition is made up of HCAF, the Florida Department of Veterans Affairs, the Florida Senior Living Association, the Florida Health Care Association, LeadingAge Florida, the Florida Assisted Living Association, the Florida Hospital Association, the Florida Safety Net Hospital Alliance of Florida, and the Home Care Association of America – Florida Chapter.
Media Coverage: