Industry Professionals Advocate for Home Care & Hospice at the 2023 March on Washington
Industry Professionals Advocate for Home Care & Hospice at the 2023 March on Washington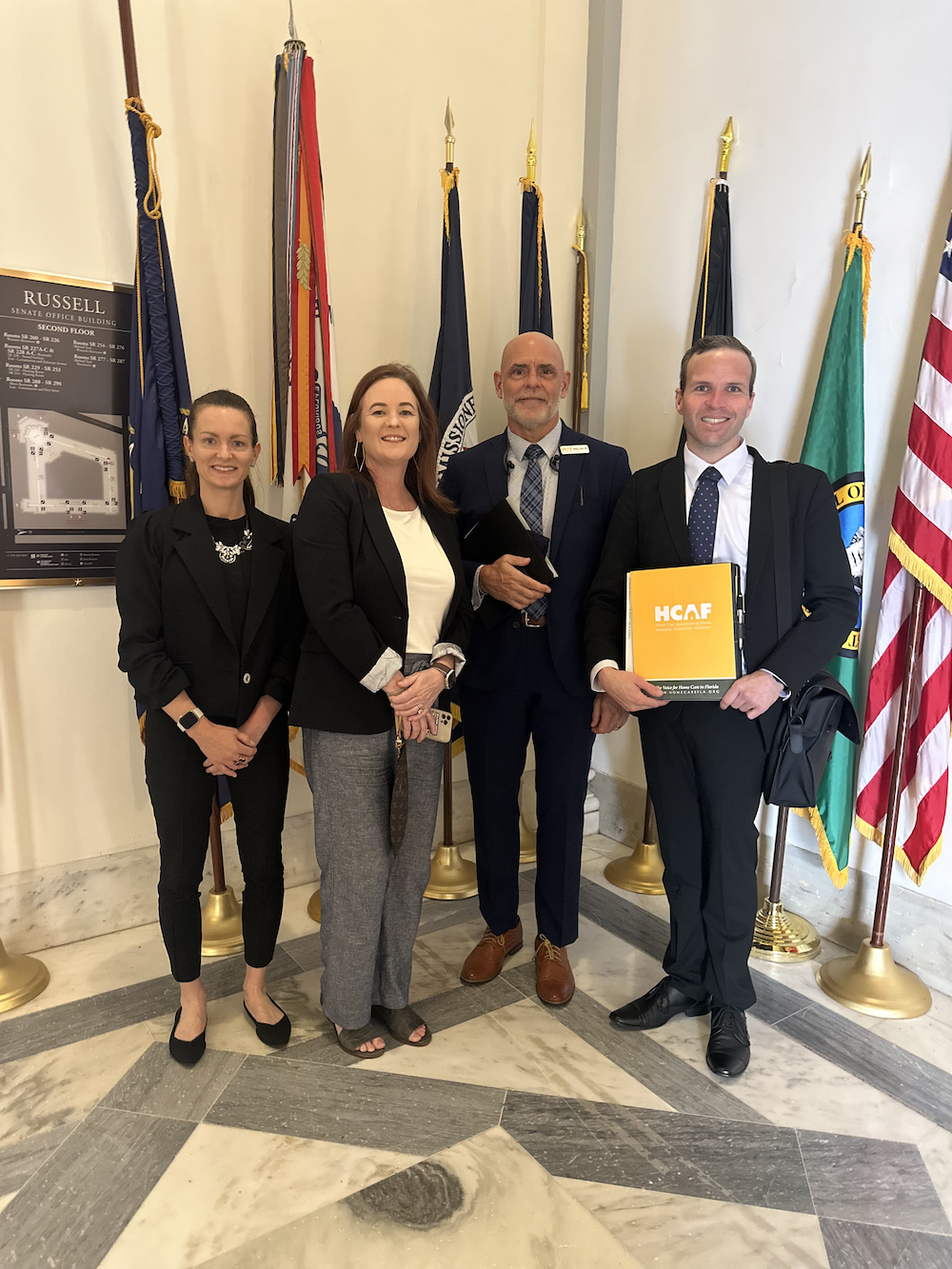 More than 100 home care and hospice industry professionals from around the country participated in the National Association for Home Care & Hospice (NAHC) March on Washington on March 28, 2023. As part of the annual event, advocates promoted legislation and policies aimed at supporting the industry, as well as ensuring the accessibility of these essential services for seniors and people with chronic diseases and disabilities.
Specifically, participants engaged Senators Marco Rubio (R) and Rick Scott (R), as well as the following congressional offices regarding the upcoming 2024 Medicare payment rule and the current workforce shortage: Representatives Kathy Castor (D-Tampa), Sheila Cherfilus McCormick (D-Miramar), Neal Dunn (R-Panama City); Laurel Lee (R-Brandon); and Darren Soto (D-Orlando).
Prior to meetings on Capitol Hill, Texas Republican Representative Beth Van Duyne spoke to March on Washington advocates, expressing her determination to work in a bipartisan fashion with members like Oregon Democratic Representative Earl Blumenauer and key stakeholders on critical issues like program integrity, oversight, and the need to remove regulations that stand in the way of Americans accessing the best possible care in the home.
Additionally, representatives from the Centers for Medicare & Medicaid Services (CMS) addressed advocates regarding their methodology for calculating the 2023 payment rule, which implemented half of the permanent 7.85% reduction in Medicare home health payments. In anticipation of the proposed rule for 2024 — which is expected to be issued in the summer and finalized by the fall — NAHC estimates that approximately 56% of Florida home health agencies' profit margins will fall below zero next year due to the 7.85% permanent cut and the 3.925% spared this year. As the home health provider community braces for these cuts, advocates urged Congress to stop CMS from imposing additional cuts next year in an effort to promote stability and predictability. Click here for a fact sheet on this issue.
Furthermore, advocates urged Congress to pass the Better Care Better Jobs Act (S.100/H.R.547), which would make key improvements to Medicaid and address both patient and caregiver challenges related to the workforce shortage. Among other things, this legislation would increase the Federal Medical Assistance Percentage (FMAP) for Medicaid home and community-based services (HCBS) by 10% and provide workforce training opportunities. Click here for a fact sheet on this legislation. In addition, two recently released reports were presented to Congress, The Home Care Workforce Crisis: An Industry Report and Call to Action and The State of the Direct Care Workforce. In addition to providing multiple policy recommendations for Congress to consider, the reports highlight the real-world impact of the workforce shortage.
As of now, 40 Senate Democrats and 75 House Democrats have cosponsored the Better Care Better Jobs Act, including four members of Florida's congressional delegation: Representatives Kathy Castor (D-Tampa); Sheila Cherfilus McCormick (D-Miramar); Lois Frankel (D-West Palm Beach); and Frederica Wilson (D-Hialeah). A priority of the Biden administration, this legislation cannot pass without Republican support in a divided Congress. Nonetheless, it represents an important starting point for investments in Medicaid HCBS and workforce development, both nonpartisan policy issues requiring immediate attention.
"We learned yesterday that it's not common knowledge that an entry-level CNA or home health aide certificate can be earned in just weeks and often the direct care worker can get lost in the shuffle as being similar to nurses," said Brandi Kurtyka, CEO of MisisonCare Collective. "We had a productive dialogue on the importance of stabilizing the workforce that's already in care."
HCAF would like to extend our appreciation to the following advocates who participated in the March on Washington: Jennifer Lang, Director of Strategic Relationships at Family First Homecare; Brandi Kurtyka, CEO of MissionCare Collective; and Melinda Gaboury, CEO of Healthcare Provider Solutions.
Even if you were not able to attend, you can still make your voice heard by contacting your congressional representatives through the Legislative Action Center.