Read the Winter Edition of Florida at Home Today
Read the Winter Edition of Florida at Home Today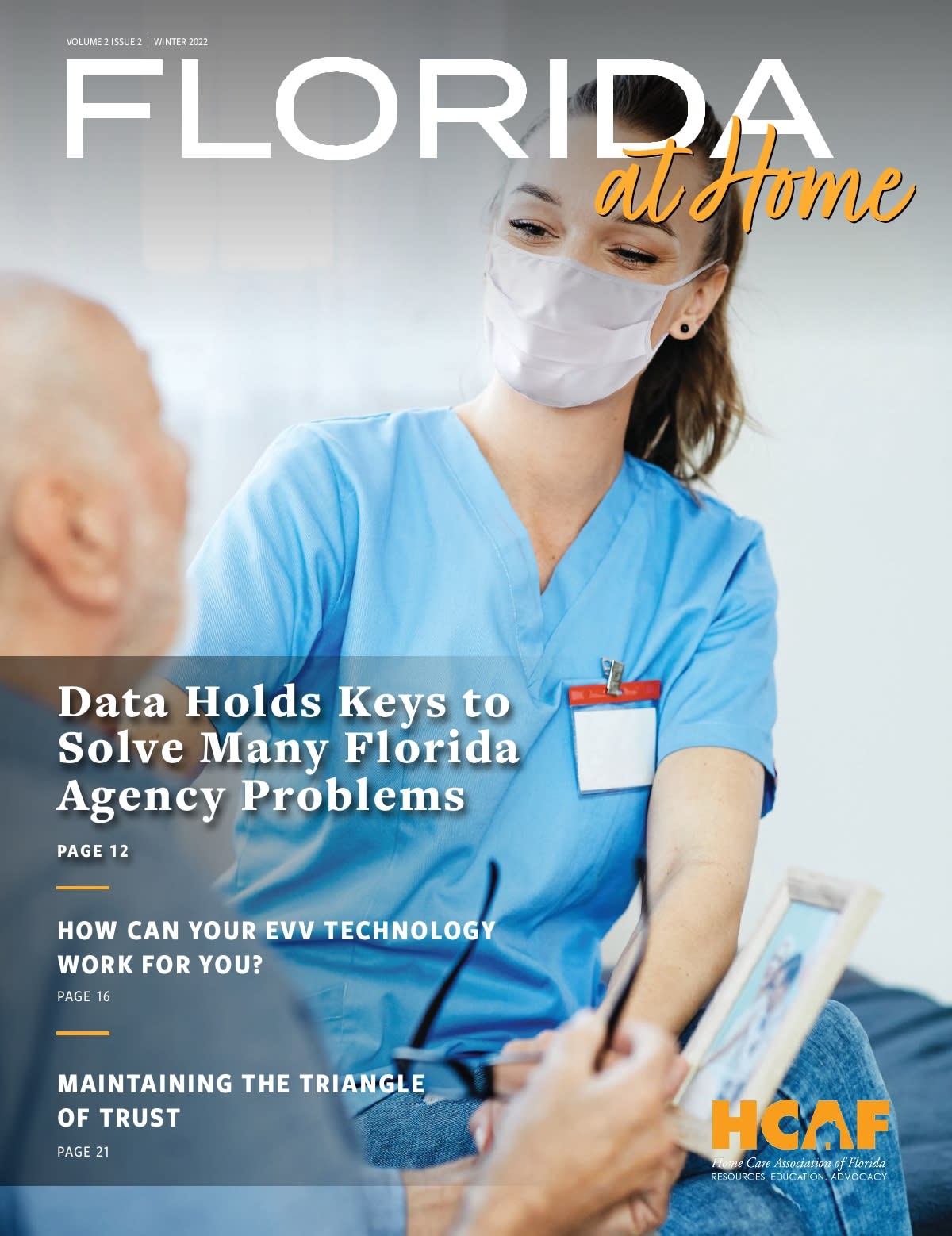 We are pleased to announce that the winter issue of HCAF's biannual magazine, Florida at Home, is now available online.
Florida at Home is published twice annually to provide news and insights from industry experts for home care professionals. A print version of the magazine is mailed to each Florida home care agency and more than 100 industry vendors.
Thank you to all of the contributors for their valuable insights and expertise! To submit a proposal to contribute to a future edition, please click here.
Inside This Edition
President's Message: Here We Are Again, Setting the Table (By Cindy Lavoie, Interim HealthCare of NorthWest Florida)
Hybrid Care Models for Home Health: Using Technology to Improve Outcomes (By Kartik Shah, Skyscape)
Best Practices to Keep Your Managed Care Contracts (By Regina Wild, Managed Care Consultants of Florida)
Data Holds Keys to Solve Many Florida Agency Problems (By Georgia Blair, SimiTree)
How Can Your EVV Technology Work for You? (By Lindsay Mack, Netsmart Technologies)
Age-Friendly Care in Home Health: Move Your Quality Needle Forward (By Jennifer Kennedy, CHAP)
Maintaining the Triangle of Trust: How Taking Extra Steps to Protect Patient/Client Funds Can Strengthen the Bond Between Your Agency, Caregivers, and Patients/Clients (By David Young and Perry Halman-Peguillan, SpendCare)
Do You Lead Expecting Something in Return? (By Greg Henderson, Whirks)
 If your organization serves the Florida home care provider community, advertising in Florida at Home will prove to be a wise investment. It is primarily targeted at professionals who work for Florida's more than 2,000 home care agencies. Make sure they think of you first!
Click here to view advertising rates or contact our publisher, Innovative Publishing, at (844) 423-7272 or advertise@innovativepublishing.com.