Recap: Home Care Professionals Promote Industry Policy Priorities at State Advocacy Day
Recap: Home Care Professionals Promote Industry Policy Priorities at State Advocacy Day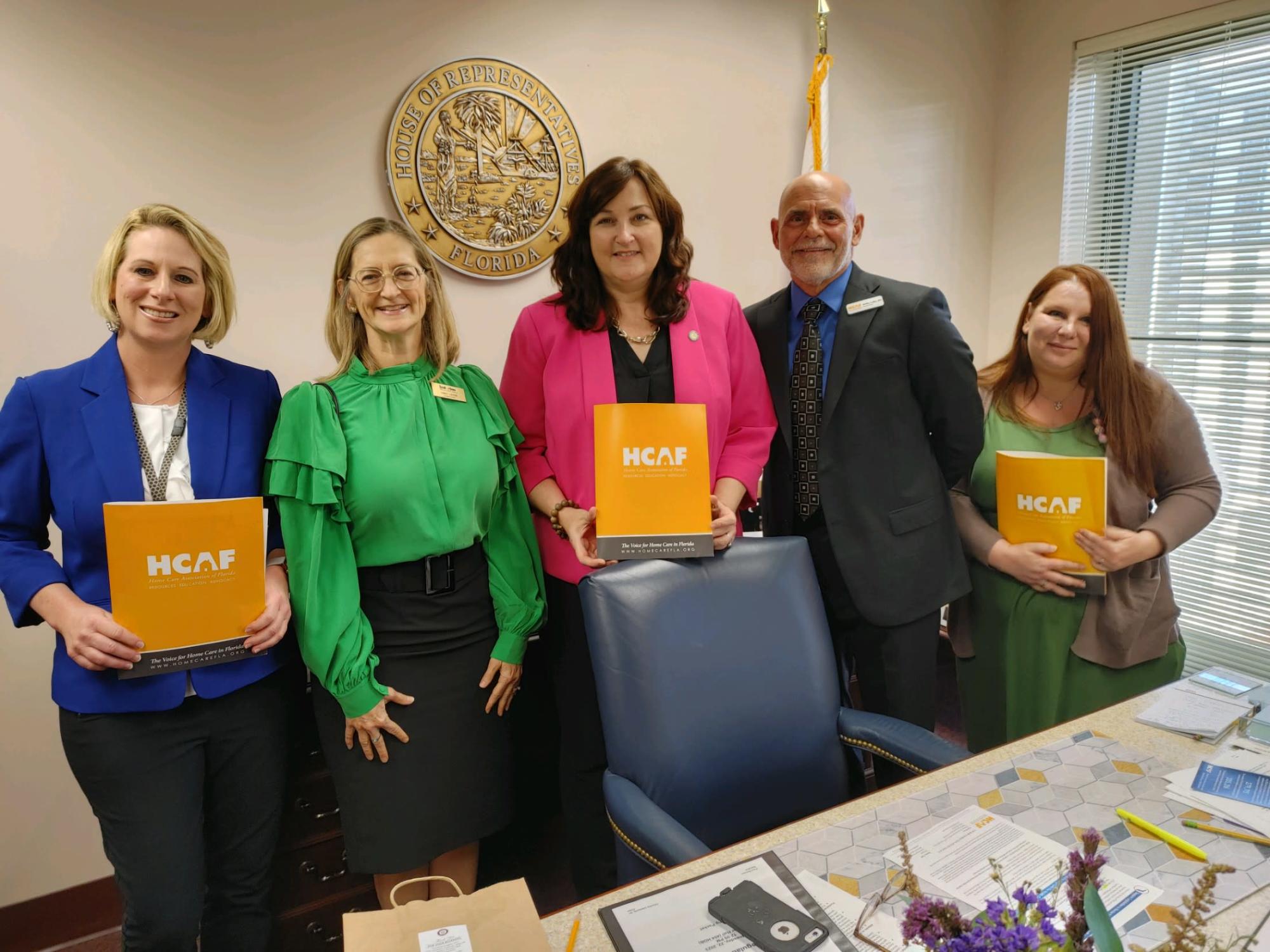 On Wednesday, March 22, 2023, the Home Care Association of Florida (HCAF) held its annual Home Care Day at the Florida Capitol to educate legislators about key issues and legislation affecting the industry. As part of the 60-day Florida legislative session, Home Care Day is an annual event designed to promote our industry's value proposition by connecting providers with legislators. This year's 60-day legislative session began on March 7.
Over two dozen advocates participated in Home Care Day by engaging 64 legislators and attending legislative committee meetings in order to observe firsthand how policy is developed. This year's agenda focuses on increasing Medicaid reimbursement rates and enacting legislation that relieves providers of burdensome regulations. To learn more about the legislation we are tracking, please click here.
Legislative budget committees unveiled their proposed budgets while legislative meetings were in progress. These budgets included additional funding for the Statewide Medicaid Managed Care (SMMC) program. Legislators will spend the remainder of the session, scheduled to conclude on May 5, finalizing the fiscal budget for 2023-24, which will become effective on July 1. As part of HCAF's ongoing efforts to increase Medicaid reimbursement rates, the policy staff will closely monitor budget negotiations.
The HCAF policy team briefed advocates prior to attending meetings at the Capitol about relevant legislation being considered. Representative John Snyder, whose family is in the home care industry, graciously provided an overview of the legislative session and advice on effective advocacy.
HCAF's Board of Directors and staff are grateful to all those who attended and expressed the concerns and priorities of the home health care provider community.
If you were unable to attend, you can still make your voice heard by your legislators in just a few quick steps! Click here to send an email to your elected officials urging them to support legislation that removes unnecessary regulations and protects access to high-quality, cost-effective home care.
Back the (Home Care) PAC's 2024 Fundraising Campaign
The purpose of the Home Care Political Action Committee (PAC) is to amplify the political voice of the home care industry by pooling financial resources and supporting candidates who will represent our interests at the statehouse.
Prior to the beginning of the 2023 Florida Legislative Session, during which legislators are not allowed to accept campaign contributions, the PAC contributed $15,000 to our home care champions. Due to this, the PAC currently has a balance of less than $1,000. Please donate now to help the PAC emerge from the legislative session strong and prepared for the 2024 elections! Businesses and individuals are welcome to contribute, and there are no contribution limits.
Click here to make a financial contribution today (and consider giving monthly) to help elect home care champions and save our seat at the policymaking table.
Images