Summer 2023 Issue of Florida at Home Magazine Now Available
Summer 2023 Issue of Florida at Home Magazine Now Available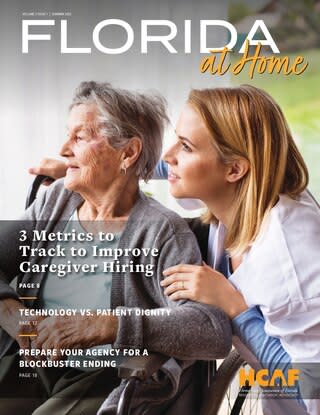 Immerse yourself in the summer edition of Florida at Home, the official magazine of HCAF! Available online now, this biannual publication is a must-read for home care providers seeking expert insights, industry news, and valuable resources.
In the latest issue, you'll find a range of thought-provoking articles, including:
Cover Story: 3 Metrics to Track to Improve Caregiver Hiring (Adam Robinson, Hireology)
Stop Expensive and Wasteful 'Desperation Hiring' (Tim Rowan, Rowan Resources)
President's Message: Rapid Change: Opportunities or Offenses (Cindy Lavoie, Interim HealthCare of NorthWest Florida, Inc.)
Tackling Florida's Home Health Workforce Crisis: A Call to Action (Brandi Kurtyka, Missioncare Collective)
Technology vs. Patient Dignity (Kirk Arthur, INMYTEAM)
What's at Stake if Your Business Gets Hacked? (Raffie Freiden, Advatek)
Prepare Your Agency for a Blockbuster Ending (Vasilis Georgiou, CrossRoads Business Brokers, Inc.)
AI and Algorithms That Optimize Home Care (Jeff Howell, Alayacare)
HCAF sincerely appreciates the authors' valuable contributions and commitment to sharing their expertise and insights with the home care provider community.
The print edition is mailed to more than 2,200 Florida-licensed home health agencies and over 300 vendors and other care providers. Past digital issues of this publication are archived on our website. Feel free to share the magazine with your colleagues, clients, and networks to maximize its impact.